Technology - Licht Journal originally published at Technology - Licht Journal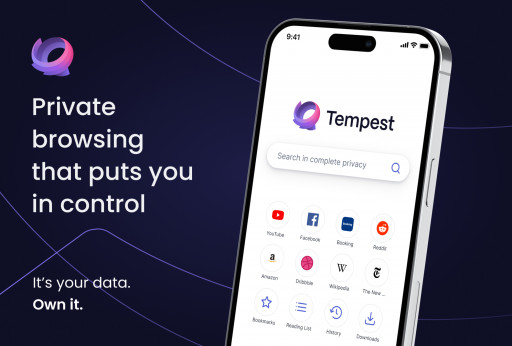 Tempest
Tempest - private browsing that puts you in control
SAN FRANCISCO, April 11, 2023 (Newswire.com) - Tempest, an internet privacy company, has announced the public launch of its new search engine and browser. The integrated private search and browser surpasses others in the market through combining unrivalled privacy features with a user-friendly experience - matching that of Google's. This marks the official launch of products Tempest has been building in stealth for over 5 years.
Tempest's product offering is superior to existing private search and browser offerings in the market in three ways:
Matches Google's user experience - Tempest is the only private option which provides search results in a way that is comparable to Google. E.g. searching 'Time in San Francisco and London' will generate an easy time zone slider which is comparable to Google's offering, and which other private search providers simply don't give users.
Only authentically integrated private search and browser - Tempest was conceived as a private search & browser integration, with native browsers purpose built for each platform. Tempest offers multi-language support, device syncing and the use of alternative browser extensions.
Unrivalled privacy features - Tempest is the only private engine and browser to provide a "privacy report card" on the results/links provided on the SERP - providing users with a unique view of how websites are treating an individual's privacy. Tempest also provides ad-blocker and anti-fingerprinting solutions which are superior in efficacy to others in the market.
Unlike traditional search engines and browsers that have normalised the practice of tracking and collecting user data, Tempest's privacy-focused internet products do not collect Personally Identifiable Information (PII), are tracker-free and do not collect your search history. This means your personal information is protected.
All advertising on Tempest will be keyword-based, with advertisers unable to target users based on their browsing history. Private search is default and user data will never be shared with third parties without user action and consent. This means people can search online knowing they are safe from being watched.
Michael Levit, Co-founder and CEO at Tempest said:
"A decade ago, today's Google would have been classified as spyware. We've launched Tempest because we need a storm to disrupt the search industry and put people back in control of their personal information.
"At present, people have little choice but to see their deepest personal searches - about their health, their money and their relationships - tracked and shared with advertisers. Today is the beginning of the end of that."
Sean Murphy, Co-founder and COO, added:
"Launching Tempest Search and Tempest Browser is about offering people a high-quality, private search engine and browser experience. With Tempest, we want to create an experience that feels familiar but is radically different in how a person's privacy is viewed and respected, one where everyone can feel confident that their data is theirs to do with what they please.
"We've got an exciting vision for the future of Tempest and will be pursuing an ambitious approach over the coming months to increase market share and re-shape the way people search and use the internet."
At launch, Tempest Search and Tempest Browser are available for free globally including the United States, France, Germany and the United Kingdom. The search engine is compatible with all devices and platforms, allowing for a seamless change for users. Tempest Browser is available on desktop, as well as iOS on mobile with an Android launch to follow later this year. Tempest can be downloaded at www.tempest.com.
ENDS
Notes to editors
About Tempest
Tempest is an online privacy company which seeks to increase privacy and data security for all Internet users. Founded in 2019 by entrepreneurs Michael Levit and Sean Murphy, Tempest has built a portfolio of privacy products including a Tempest Search and Tempest Browser. It also plans to expand its product range, ensuring user safety across every touchpoint online. With operations spanning across 10 countries and 3 continents, Tempest is growing to become a global name in Internet privacy and protect millions of users' data online.
For more information visit: www.tempest.com.
Contact Information:
Ewan White
Senior Account Director
[email protected]
Original Source:
Tempest Launches Premier Private Search and Browser to Revolutionise the Online Search Experience
Technology - Licht Journal originally published at Technology - Licht Journal