Technology - Licht Journal originally published at Technology - Licht Journal
An Essential Guide to Negotiate Competitive IT Salaries and Make Better Offers for Top Tech Talent in the USA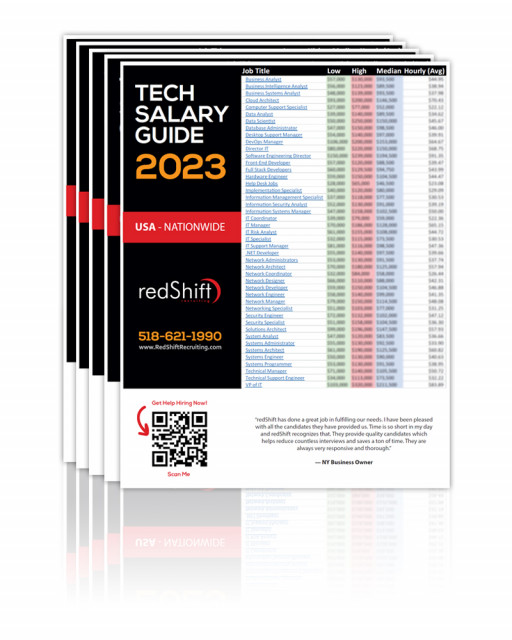 Tech Salary Guide 2023 by redShift Recruiting
Download the 2023 Tech Salary Guide from redShift Recruiting for FREE!
ALBANY, N.Y., January 30, 2023 (Newswire.com) - RedShift Recruiting, a leading IT staffing agency, is pleased to announce the release of its 2023 Tech Salary Guide. This comprehensive guide includes salary data from redShift Recruiting's candidate placements for the NY Capital Region, as well as data for the entire United States from Indeed and Google Search Engine Result Pages (SERPs).
The IT Salary Guide is designed to help employers and tech professionals navigate the current hiring landscape with confidence. Employers can use the guide to make their salary offers more competitive and to better understand current market trends, while technical talent and job seekers can use it to negotiate better salaries with potential employers.
"Our goal in compiling the IT Salary Guide is to help employers and IT professionals make and negotiate better offers," said Dan Sterantino, President of redShift Recruiting. "With this data, employers will have access to the most up-to-date information on salaries and job duties, while job seekers will be able to make more informed decisions when deciding whether to accept a job offer."
The guide also includes links to information on the top 45 tech positions, including annual salaries, hourly rates, and responsibilities. These job titles are in high demand nationwide and include roles such as software engineer, cloud architect, data scientist, and DevOps manager. With a clear picture of the IT job market, employers and IT professionals will be able to make more informed decisions when hiring tech talent, choosing a career path, or negotiating salaries.
In addition to the salary guide, redShift Recruiting also offers a free online IT Job Titles Library, which contains 413 information technology job titles and detailed information on the top 45 IT job titles, including job descriptions, salary information, required skills, role expectations, popular industries, and similar job titles. This resource aims to bridge the gap between employers and job seekers by providing clarity on job titles and expectations. Using the IT Job Titles Library, companies can more easily identify qualified professionals who meet their needs, while job seekers can recognize opportunities that align with their skills and abilities.
RedShift Recruiting is committed to helping employers and job seekers in the technology industry navigate the current hiring market and make informed decisions. We encourage you to take advantage of our 2023 IT & Technology Salary Guide and IT Job Titles Library to gain a competitive edge in the job market.
Grab your free copy of the 2023 Tech Salary Guide.
Contact Information:
Daniel Sterantino
President
[email protected]
5186211990
Original Source:
RedShift Recruiting Releases 2023 IT & Technology Salary Guide
Technology - Licht Journal originally published at Technology - Licht Journal