Technology - Licht Journal originally published at Technology - Licht Journal
The fifth expansion for Noble Industries is a result of tremendous success with their OmniWallUSA wall organization system.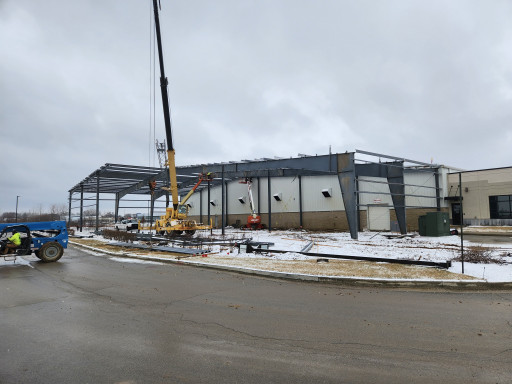 Noble Industries Expansion
Noble Industries expansion has started for OmniWall and other customer fulfillment.
NOBLESVILLE, Ind., February 9, 2023 (Newswire.com) - Noble Industries, Inc. broke ground in November 2022 on their latest expansion in Noblesville, Indiana. The 15,000-square-foot addition is a dedicated climate-controlled area for the company's growing packaging and fulfillment department.
The tremendous growth of Noble's product, OmniWallUSA is one of the biggest factors for the expansion. OmniWallUSA was created in 2019. The product has grown from a metal wall organization system with 30 accessories to cabinets and 150 accessories. OmniWall is leading the way in quality wall organization and garage storage solutions. "One might say with OmniWall and the other products we plan to announce later this year, you too can have that dream garage space," said Greg Parker, President of Noble Industries. In addition to OmniWallUSA, GridIronMetal is another Noble Industries product that Greg Parker expects to see rapid growth in 2023.
"The 15,000 square-foot expansion will perfect our full-service metal fabrication offering," Greg Parker said. "2020 was a tough year for many companies and people, but we worked hard to maintain our customers during such crazy times. In addition to retaining customers, we added a great product in OmniWallUSA. We continued to work hard to serve our customers, refine our processes, and most of all, create more jobs in metal fabrication and in the growing area of packaging and fulfillment."
In addition to the facility expansion, Noble Industries has added 2 (two) Amada Robotic Press Brakes in 2022 and is installing a new Salvagnini Panel Bender which will be extremely valuable to existing Noble Industries sheet metal fabrication customer base and the OmniWall product line. There are plans for additional metal fabrication automation in 2024.
####
Noble Industries, founded in 1968 by William and Anita Parker, is now run by second-generation children, Greg Parker and Brenda Parker Snyder. The company has grown to 90 employees and provides custom metal parts to automotive, industrial, retail and medical organizations around the United State and Canada. OmniWallUSA was created in 2019. Noble Industries bought GridIronMetal in 2022.
Additional questions can be answered by Greg Parker or Brenda Parker Snyder at 317-773-1926.
Contact Information:
Brenda Parker Snyder
Executive Vice President
[email protected]
317-773-1926
Greg Parker
President
[email protected]
317-773-1926
Original Source:
Noble Industries and OmniWallUSA Announce Expansion of a New Warehouse and More Metal Fabrication Automation
Technology - Licht Journal originally published at Technology - Licht Journal