Technology - Licht Journal originally published at Technology - Licht Journal
Khameleon 8 Makes Streamlining Businesses Even Easier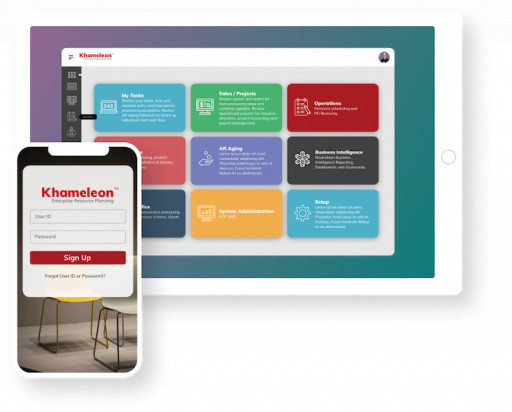 Khameleon 8 Software
Easy-to-use cloud-based software for project-based dealerships
TAMPA, Fla., January 24, 2023 (Newswire.com) - Khameleon Software is excited to announce the general availability of its version 8 state-of-the-art cloud-based ERP solution for project-centric businesses. The company's release of Khameleon ERP V8 represents a significant milestone in the software's 20+ year life cycle in that it's the culmination of packaged capabilities that automate key processes for system integrators without the need for customization. The new update was launched on Jan. 9, 2023, and is now available at https://khamsoft.com.
"The problem I see project-based dealerships face is managing their complex workflows. Developing the quote all the way to billing and financial reporting can be very difficult," said Khameleon's President, CEO, & Founder, Doug Angelone. "The biggest thing about Khameleon V8 is it consolidated all of the industry-specific functionality that we've addressed over the years into a straightforward, easy-to-use ERP solution that runs in the cloud. No other product can do this out of the box."
Khameleon's engineers were focused on enhancing the user interface and making navigation easier. In order to improve navigation and reduce friction, they reduced the number of modules from 16 to 9. Now, what took an employee four steps only takes them one, so they can use the software more efficiently.
If a business wants to switch to an ERP software that can streamline their project-based dealership then they need to make the switch to Khameleon. Schedule a free demo to see the power of Khameleon. Then, a software implementation consultant will evaluate the business's dealership and give them the best tactics to navigate the installation process. Migrating to Khameleon is simple, in just 3-6 months all data can be migrated to the new software, with no downtime needed.
"Businesses often waste tons of money on third-party IT, training, and customizations," said Matthew Angelone, Khameleon's Senior Vice President & Founder. "With the new software update and bundled industry-specific capabilities, our customers can achieve streamlined workflows in half the time, and cost."
For questions, suggestions, comments, or feedback about the new site, email Khameleon at [email protected].
Contact Information:
Matthew Angelone
Senior Vice President & Founder
[email protected]
813-223-4148
Original Source:
Khameleon Software Launches Updated Version of Their State-of-the-Art ERP Solution
Technology - Licht Journal originally published at Technology - Licht Journal