Technology - Licht Journal originally published at Technology - Licht Journal
This versatile lighting solution provides homeowners with an all-in-one lighting solution built to last for decades. Aurora Smart Lighting plans to revolutionize the home lighting industry as a whole.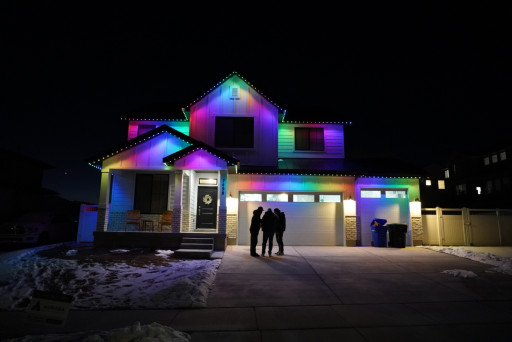 Aurora Lights Illuminated at Night
Shown is a recently completed install of the Aurora Lighting system in West Jordan, Utah. The homeowner is being shown the functionality of the app and lights.
SALT LAKE CITY, February 10, 2023 (Newswire.com) - Aurora Smart Lighting, a family-owned business, is behind the world's most customizable permanent outdoor lighting system. With millions of colors to choose from, hundreds of effects, timers, presets, and the ability to control the lights remotely using Google Home and Amazon Alexa, this system replaces the need for putting up holiday lights every year or getting canned lights installed. The CEO Hunter Flynn co-founded the company with his father Robert Flynn, along with support from the rest of the Flynn family.
"We saw a gap in the lighting industry that needed to be filled and we're thrilled to revolutionize the way people think about outdoor lighting," said Hunter Flynn, CEO and co-founder of Aurora Smart Lighting. "Our goal is to make it easy for homeowners to create a beautiful and customized outdoor lighting experience without the hassle of setting up and taking down holiday lights every year or paying ridiculous prices for canned lighting that's stuck with only one setting. This solution provides everyone with a permanent versatile product that is continuously updated for a better user experience."
The Aurora Smart Lighting system is permanently installed and placed into an aluminum track designed to match the color of any home, allowing them to be discreet during the day and shine bright at night. The system uses triple-diode RGBW LEDs, which are the brightest LEDs available, provide a white spectrum control, and last decades. Additionally, the lights are easily controlled using the app that connects to the home's Wi-Fi.
Some of the most popular lighting uses:
​​Accent Lighting: Illuminate lighting that accents a home for that luxury look during the summer months.
​​Holiday Lighting: Display customized unique colors and patterns for each holiday of the year.
​Security Lighting: Tighten up on security and choose the areas of the home to be illuminated at night.
​Game Day Lighting: Show support for favorite sports teams on game days.​
Timed Lighting: Set timers to display favorite presets based on the clock, sunset or sunrise for a geographic area.
"We believe that everyone should have the ability to transform their outdoor spaces into a beautiful and welcoming environment," said Robert Flynn, COO and co-founder of Aurora Smart Lighting. "We're proud to offer a solution that is not only convenient and customizable, but also durable and long-lasting."
Aurora Smart Lighting invites homeowners to take control of their outdoor lighting and experience the convenience and customization of their innovative system. Visit the company's website to learn more about the products and features offered.
Contact Information:
Hunter Flynn
CEO
[email protected]
8014491871
Original Source:
Aurora Smart Lighting is Paving Way for the Future of Home Lighting
Technology - Licht Journal originally published at Technology - Licht Journal