Aviation - Social Gov originally published at Aviation - Social Gov
Spurred by consumer use and municipal priorities, autonomous public transit is poised for growth.
Despite the current focus on private autonomous vehicles, public transportation isn't going anywhere.

In fact, Americans took 9.9 billion trips on public transportation in 2019, reports the American Public Transportation Association. Millennials consider public transit as the best option for getting to where they want to go. And money invested in public transportation generates both jobs and economic returns.
So, it's no surprise that autonomous public projects are being demoed, are in the works or are already in service. From buses, to trains, to shuttles and taxis, to even ferries, autonomy is poised for growth.
Interestingly, the demand is not coming from consumers as much as municipalities and regional governments seeking to reduce costs, manage congestion, meet environmental/emissions goals, fill geographic gaps and improve available data. (In fact, many consumers, perhaps used to automatic transportation such as airport shuttles, seem more concerned about creature comforts and human attendants who aid with luggage and boarding.)
Some states, such as Florida and California, are funding projects or authorizing pilot programs. The federal Infrastructure Investment and Jobs Act authorizes specific amounts for electric vehicles (EVs), such as for purchase of school and public buses and charging stations. The legislation is vaguer on money targeted toward specifically autonomous projects, but does include $500 million toward the Strengthening Mobility and Revolutionizing Transportation (SMART) grant program, which can include autonomous vehicle infrastructure. And autonomous public transportation can benefit from the EV grants as well.
When most people think of public transportation, they first consider the buses and trains they use in everyday life. Yet the shuttles they encounter on hospital and university campuses, airport ground transport and individual transportation such as taxis they hail, are public as well, because they are open to anyone to use.
Let's look at recent developments across public transportation sectors:
BUSES
Buses are mainstays of public transportation because they can cover many routes, stop frequently and seat dozens of people. Some also navigate city streets, which is the hardest challenge for any autonomous vehicle.
In January of last year, St. Cloud, Minnesota's New Flyer of America (part of Winnepeg bus manufacturer NFI Group) and Robotic Research of Clarksburg, Maryland, unveiled the Xcelsior AV

. Billed as North America's first heavy duty automated transit bus. Xcelsior AV uses Robotic Research's self-driving technology—which processes the world surrounding the bus, maps the environment, makes decisions and navigates the route—along with Robotic Research's AutoDrive Bywire

, which controls steering, braking, throttle and bus movement.
The system creates a virtual 3D model of the environment with sensors including LiDARs, radars and cameras. Three hundred sixty degree sensors provide vehicle detection and course correction. Vehicle-to-vehicle communication enables platooning; vehicle-to-infrastructure communication allows for precision docking, the ability to run when GPS and pre-mapped routes are unavailable, and performance analytics.
The buses are being deployed in revenue service on 9.4 miles of grade-separated public guideway connecting downtown Hartford and downtown New Britain, as a demonstration project by the Connecticut Department of Transportation and funded by the Federal Transit Administration's (FTA) Integrated Mobility Innovation initiative. The demonstration will particularly focus on using automated technology to increase accessibility and service efficiencies. The pilot is scheduled to run through the end of 2022 and will include three 40-foot vehicles.
Retrofits
Existing buses also can be retrofitted, for example, with the vehicle-agnostic TONY (To Navigate to You) kits from Perrone Robotics. As Paul Perrone, CEO of the Crozet, Virginia-headquartered company, told Inside Unmanned Systems last fall, TONY begins with the company's MAX general purpose software, which performs sensor data ingestion and perception, sensor fusion, AI-driven maneuver selection, path planning and control messaging. MAX is configured for the sensor arrangements, including LiDAR and radar, camera, GPS, ultrasonic and other sensors for particular vehicles.

Onboard computer platforms are packaged in equipment boxes which, together with the sensors, GPS, inertial navigation and camera, allow the Bolt-in-Autonomy Kit (BAK) or Drive-By-Wire system to take over the steering, brake and throttle of the vehicle. Off-the-shelf computers, communication adapters and other electronics are used for onboard autonomous controls; Perrone's Watchdog system monitors safety and security. Certain functions, such as sensors that keep a door open if a person is there, usually come with the vehicle.
"I think COVID has created the opportunity for companies like us to redefine what mobility looks like," said Joseph Holmes, vice president business development at Perrone. "I don't think we'll have another opportunity to reset what transit is."
Perrone uses LiDAR sensors made by San Francisco-based Ouster. The two companies signed an agreement last October for Ouster to be a preferred LiDAR supplier for Perrone, which will integrate Ouster's OS sensors into a configuration of a TONY®AV retrofit kit that can be embedded into many vehicle types.
TRAINS
Munich-based Siemens Mobility and Berlin based Deutsche Bahn subsidiary S-Bahn Hamburg GmbH have teamed up to create the first autonomous train that operates by itself in rail traffic. It uses Automatic Train Operation (ATO), a future standard over ETCS (European Train Control System). ATO controls traction and brakes; ETCS monitors speed and headways. Information between trains is sent by radio signals. Based on available data about infrastructure, track and timetables, the onboard system calculates the optimal trip profile at any given time and controls the vehicle's traction and braking systems on automated train runs.
The trains will run on Hamburg's existing rapid transit S-Bahn network, and there are plans to expand nationally by 2030. A driver will be onboard to take control if the train passes through a zone not fitted with the technology.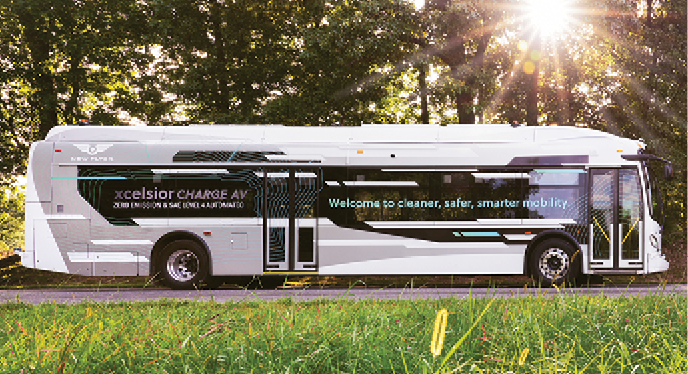 "The world's demand for mobility is increasing, while at the same time countries are setting ever higher targets for reducing CO2 emissions," said Andre Rodenbeck, CEO for Rail Infrastructure at Siemens Mobility, via email. "Innovative technologies such as ATO over ETCS that connect intelligent infrastructure with intelligent trains are improving mobility by bringing shorter headways, more punctual trains, a more stable timetable and greater travel comfort. Through our ATO we can put up to 30% more trains on the tracks, improve punctuality by up to 15% and reduce energy consumption by up to 30%."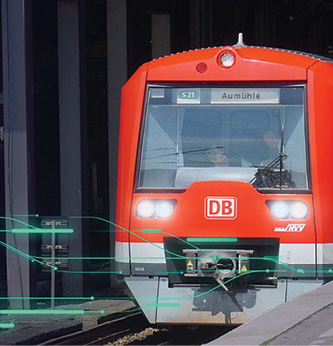 ON-DEMAND VEHICLES
On-demand vehicles are hailed by individuals or small groups; they include taxis and a recently resurging area known as PRTs.
Taxis
Boston based Motional, a joint venture of Seoul-based Hyundai and Aptiv LLC of Dublin (originally Boston), have been operating the world's longest-standing public, paid, self-driving ride hailing service in Las Vegas for more than 3 years. In February, Motional also launched a new, self-driving robotaxi service in downtown Las Vegas in conjunction with New York City-based Via.
"Autonomous vehicles—and specifically robotaxis—have the potential to significantly improve mobility through safer, more accessible and more affordable transportation options," Eryk Nice, VP of technology strategy and product, UX and design at Motional, said in an email,
Motional and Lyft will launch a scalable multimarket, fully driverless public service starting in 2023 in Las Vegas before expanding to other cities.
Hyundai's IONIQ 5 robotaxis will be the basis of Motional's Level 4 autonomy vehicles. More than 30 visible sensors, including cameras, LiDARs and radars, provide 360-degree perception, high resolution images and more-than-300 meter-object detection.
In addition to Motional, other autonomous taxi systems include Alphabet owned, Mountain View, California-based Waymo. Operating in San Francisco and the Phoenix area, the Waymo system leverages 360-degree LiDAR, perimeter LiDAR, longer-range (500 meter) overlapping camera views, perimeter and peripheral vision systems, and radar. At the end of March Waymo announced it would begin offering rides with no human safety drivers to employees in San Francisco—they've been available around Phoenix for more than a year. They also announced inclusion of downtown Phoenix. 
In February, General Motors' Cruise subsidiary announced it was launching an independent autonomous taxi service in San Francisco. While waiting for approval before it can charge for rides, it will likely make that city the first with autonomous taxi competition. 
What's old may be new again. Personal rapid transit (PRT), also known as automated transit networks (ATN), was originally developed in the 1970s and is seeing renewed interest. The vehicles, often called pods, travel on dedicated guideways that look like tracks. Some suspended systems use cars that hang down from them.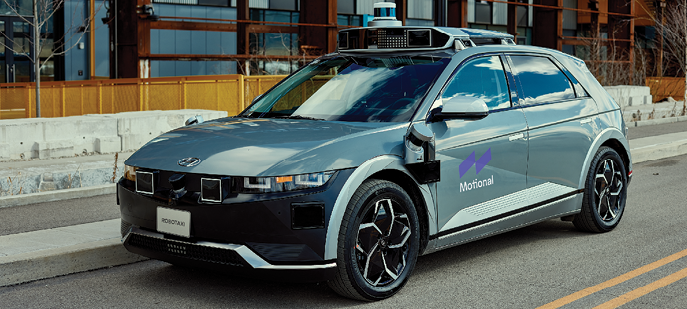 Personal Rapid Transit
ATN pods carry one to eight passengers. They are considered "rapid" because they travel fast, (up to 70 miles per hour), are summoned on demand with little waiting time, load and unload quickly, and don't use schedules. Controlled by a central system, they are "hailed" by touchscreens or apps.
"[ATN Systems] have been proposed in just about every large city," said Jan Pretorius, CEO of Praetor Capital, who consults to PRT/ATN companies and produces research on the field. "There are 12 companies worldwide that specialize in ATNs," Pretorius said, adding that four of them have been in service. "The most well-known is at Heathrow Airport Terminal 5. Others are in South Korea, Abu Dhabi and Rotterdam, including connectors between different buildings or attractions." (Note: the Heathrow pod has been closed due to COVID.)
Zapopan, Mexico-based ModuTram operates in this market with vehicles made from off-the-shelf components from the automotive industry. This enables large fleets to be comparable in cost to smaller fleets of conventional vehicles while upkeep and operation costs are significantly less.
Another ATN company is Utrecht, Netherlands-based 2getthere B.V. The company notes it is developing enhanced perception systems for PRT and their other vehicles, including sensor fusion, 3D cameras, LiDAR, radar and ultrasound sensors. By combining sensor data with the planned path, vehicles can react to objects in and adjacent to them.
Last year, Praetor identified about 250 potential projects, particularly in India, the Middle East, China and Africa, and 13 that are under construction, although as yet there is no large-scale development. "It's likely there will be a startup by a large city within the next two years," he said.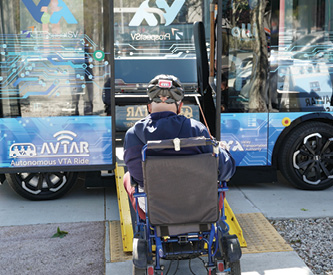 SHUTTLES
The past few years have seen many autonomous shuttle projects and demos come online, with enough manufacturers out there for various "top 25" lists to be developed. 
At the Santa Clara Valley Transportation Authority (VTA) in California, two autonomous pilots are in the works.
The Palo Alto Veterans Hospital Shuttle will operate as a circulator on the hospital campus. The vehicle is a 12-passenger Olli shuttle manufactured by Chandler, Arizona-based Local Motors (the company recently went out of business, although many of its products are still in use). Adam Burger, senior transportation planner at the VTA, said next steps involve finding vehicle upgrades, installing charging infrastructure and teaching the vehicle the route.
The hospital shuttle project will operate from the Palo Alto Transit Center to the VA shuttle over city streets. The project is a partnership with the Western Reserve Transit Authority of Youngstown, Ohio, which will receive a vehicle and test it for a year, then ship it to the VTA for another year of testing. This vehicle will be a 20 person-capacity EV Star vehicle from Vancouver, British Columbia-based Green Power, with rubber tires running on city streets. An on-board human back-up driver could operate in manual mode if the AV technology ran into a problem.
Both vehicles will use the TONY kits from Perrone Robotics.
"One of the big questions we have as an agency," Burger of VTA added, "is that public transit is so much more than just moving a vehicle. There are customer service and human elements and riders who have special mobility needs. We need to make sure that any technology that we pursue isn't negatively impacting those folks."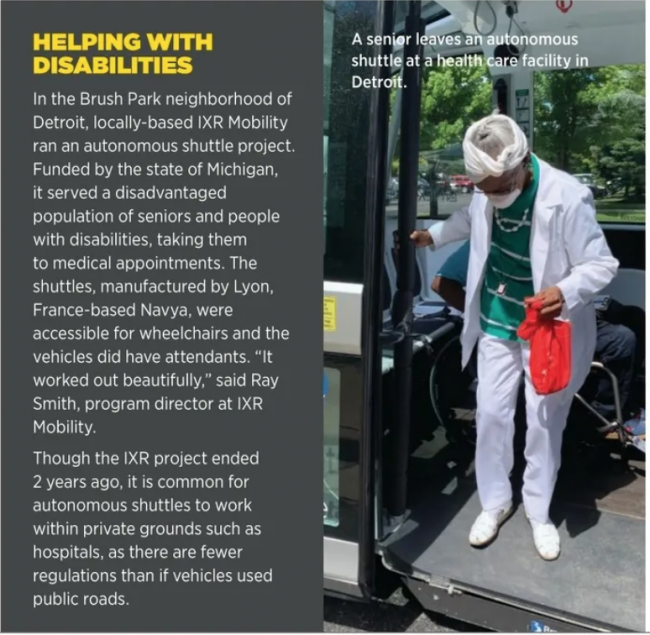 First and Last Mile 
Autonomous shuttles have the potential to transport people to and from places that may be closer to where they want to go than existing transit routes.
"We are squarely focused on what you would call first-mile, last-mile mobility within a geofenced area," said Racquel Asa, chief marketing officer at Orlando-based Beep. As a turnkey provider, she added, "we do everything from acquiring the vehicle to implementing the service." Beep has been running autonomous shuttle tests on public roads in various U.S. cities, particularly in Florida, working with partners such as Villeurbanne, France-based Navya, which builds the vehicles.
In Lake Nona, Florida, the largest, longest, most tenured autonomous shuttle network in the country at one location is running seven days a week with an eight-shuttle fleet, Asa said. Three companies—Beep, Mobileye and Benteler EV Systems of Paderborn, Germany—are collaborating on an "autonomous mover" project. Benteler will build and integrate systems into the mover, which will hold 12 to 14 passengers; Mobileye will provide the autonomous technology; Beep will focus on operations systems and services. "That's our next-generation platform," Asa said. The shuttles would be scheduled for production deployment in the U.S. in 2024.

Beep is not alone in calling itself an "operating company." For example, Amprior, Ontario-based AutoGuardian, owned by nearby SmartCone, provides day-to-day operations and supervision. Most U.S. states and Canadian provinces require an onboard attendant even with autonomous systems except in cases set up to be exceptions, CEO Tenille Houston noted. Nevertheless, AutoGuardian and others are future-proofing autonomy. "We are the ones who learn all about the technology of an autonomous vehicle, provide the onboard safety attendants, create the standard operating procedures and are the forward-facing partners with the transit agency to deliver the service," she said. "And we take care of regulations, insurance, hiring and other tasks."
AIRPORTS
Airports were early participants in using both automatic and autonomous vehicles and technology. The International Air Transport Association (IATA) chronicled more than 40 examples of driverless technology in 2018, including self-driving jet bridges, baggage carts, aircraft tugs, snow clearing/de-icing/maintenance vehicles and passenger shuttles. Airports are more of a low-speed, controlled environment that reduces the risk of accidents and can act as a testing ground for other autonomous transit uses.
Airports are likely to provide a mix of automatic and autonomous solutions. At O'Hare Airport in Chicago, the recently opened Airport Transit System (ATS) is automatic—no one is driving and trains are programmed and centrally monitored.
These autonomous projects are "taking off." For example, autonomous self-driving shuttles made by Navya have been used at the Paris, Frankfurt and Christchurch airports, interacting with the environment in real time. In March, Birmingham Airport (BHX) in England launched a driverless, autonomous shuttle pilot, initially ferrying staff and later passengers going from parking lots to the terminal. The 10-seat Auto-Shuttle traveled on roads close to the airport.
FERRIES
Not all autonomous public transportation is on land, as autonomous ferries have come onto the scene. In Trondheim, Norway, for example, the city was planning to build a bridge in 2016, but the prevalence of high-masted boats prompted the municipality to turn to the local university for another solution—which, in 2017, turned out to be an all-electric autonomous passenger ferry.
The first research vessel, milliAmpere, 5 meters long and the R&D prototype, became operational in 2017. The milliAmperell, 8.5 meters long, is scheduled to become the world's first autonomous passenger ferry in operation this summer, carrying up to 12 passengers at a time during a three-month trial. Passengers press a button to call the boat.
Morton Breivik, associate professor at the Norwegian University of Science and Technology in Trondheim, leads the project. "There is not just the technology involved," he noted. "It's also regulations, maritime routes, safety and a lot of equipment around the vessel, such as land-based infrastructure, a docking station and passenger handling equipment. There are also communications that have to be secure and an alarm central if something goes wrong."
The ferries are battery powered and charged by contactless induction in the docking area. The project has developed new algorithms for motion planning, motion control, collision avoidance, docking, multi-target tracking and localization, according to a paper to be published at ICMASS 2022, (the International Conference on Maritime Autonomous Surface Ships conference) later this year, Breivik said.
The project's goals were to develop an on-demand passenger calling system, electrical propulsion, automatic battery charging and a global navigation satellite system, plus a backup for navigation and an anti-collision system, Breivik explained. He noted that sensors—LiDAR, radar and cameras—were not part of their research, as they would likely be "some cheap stuff" they could buy off the shelf for this application.
"The sensors don't have to be very advanced," Breivik continued. "The thing that is hard is the smartness, the autonomy. We're working mainly on three things: how to interpret the sensor data for situational awareness; the high-level autonomy system that is planning the route, avoiding collisions and making adjustments in a way that is safe and passenger-friendly in terms of how drastic the movements will be; and how to efficiently monitor the system and decide when to take over by remote control. We've built up a top-notch shore control lab, where we do experiments such as asking how many ferries a remote operator can handle at once." A digital twin for simulations is also being developed.
The university has commercialized the research, forming Zeabuz in 2019. "When we get this to run, we can start talking about larger ferries, maybe car ferries," he added. "We can actually enable people to live where they want, even if it's on a remote island."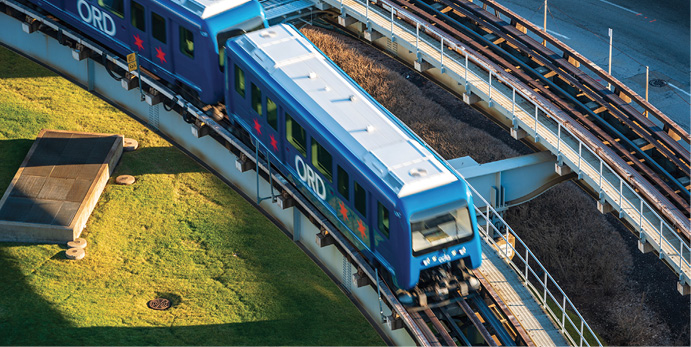 On-the-Water Demonstrations
In nearby Finland, London-based Rolls-Royce and Finnish state-owned, Turku-based Finferries, demonstrated an autonomous car ferry near Turku, traveling more than 1.5 miles with 80 people on board. The vehicle used sensor fusion and artificial intelligence, and conducted collision avoidance and automatic berthing.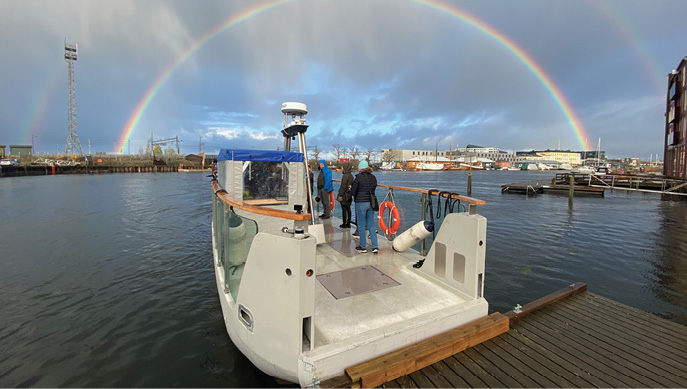 In Japan, a demonstration of the world's first autonomous ship navigation system was run in January: a 728-foot vehicle-carrying ferry successfully navigated a 149-mile stretch of the Iyonda Sea, then performed its own docking process. The Smart Ferry project was a joint effort of the Mitsubishi Shipbuilding Company, headquartered in Yokohama, and the Osaka-based Shin Nihonkai Ferry Company, using the latter's Soleil ferry. Part of Nippon Foundation's Meguri 2040 autonomous ship development initiative, the ferry entered service with a human crew last July; the January run was the first handled by the autonomous system. The ship has GPS functionality and uses infrared cameras to detect other vessels. It also has an engine monitoring system and an automated berthing/unberthing system.
All in all, autonomous public transportation projects are showing real promise around the world. With homage to The Who rock group, they are the future's "Magic Bus." 
This story republished from https://insideunmannedsystems.com/transit-getting-there-publicly/
Aviation - Social Gov originally published at Aviation - Social Gov