Aviation - Social Gov originally published at Aviation - Social Gov
Deep Trekker, a leading manufacturer of advanced remotely operated vehicles (ROVs) for demanding commercial, industrial and environmental missions, has partnered with Unmanned Systems Technology ("UST") to demonstrate their expertise in this field. The 'Silver' profile highlights how the company's durable and portable underwater robotics systems can be used for a wide range of offshore and underwater inspection applications, including aquaculture, energy, search & rescue, defense, and ocean and environmental science.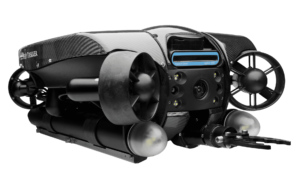 The REVOLUTION is Deep Trekker's flagship ROV, providing a fast, flexible expeditionary underwater capability that can be deployed within minutes. The unique design features a revolving head that allows operators to rotate the ROV camera, manipulators, and sonar, all while automatically station holding in moving water.
Powered by six robust vectored thrusters, the highly maneuverable platform is capable of lateral movement as well as precise forward and backward turning, and is ideal for complex deep ocean missions at depths of up to 305 metres. The vehicle and all components are powered completely by internal batteries, which can be swapped out quickly and easily in the field and provide up to six hours of operation on a single charge.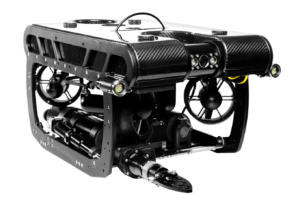 The PIVOT ROV provides a perfect balance between size and power, featuring a powerful six-thruster design that is 13.4% smaller and 20 lbs lighter than the REVOLUTION ROV. The versatile and portable system is depth-rated down to 305 metres and is ideal for a range of inspection, survey and maintenance applications.
PIVOT features separate rotating camera and tool platforms for flexible imaging and manipulation capabilities from a highly stable position. The camera is capable of rotating up to 220 degrees, while the tool platform can rotate through 97 degrees.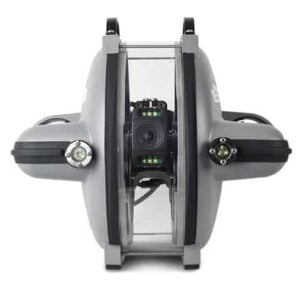 The DTG3 is an observation-class mini ROV designed for quick deployment and low-maintenance operation. Fitting completely into just one case, the highly portable system is ready to go in under a minute and provides a mission endurance of up to eight hours on a single charge.
With three thrusters and a patented pitch system for rapid descent, the DTG3 features automatic stabilisation and station holding, with reliable, intuitive controls that provide the smoothest possible underwater piloting.
The internal low-latency ROV camera rotates through 270 degrees for maximum situational awareness, and the platform can also be fitted with a variety of additional sensors, manipulators, and sonars to accommodate a wide variety of underwater inspection operations.
To find out more about Deep Trekker and their portable underwater robotics systems, please visit their profile page: https://www.unmannedsystemstechnology.com/company/deep-trekker/
This story republished from https://www.unmannedsystemstechnology.com/2022/05/advanced-rovs-for-offshore-underwater-inspection/
Aviation - Social Gov originally published at Aviation - Social Gov