Ag/Farm/Forestry - Social Gov originally published at Ag/Farm/Forestry - Social Gov
The Ocean Wise symbol next to a seafood item is our assurance of an ocean-friendly seafood choice.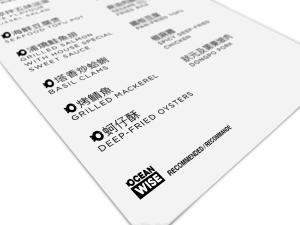 The Ocean Wise symbol next to a seafood item on your menu indicates an ocean-friendly seafood choice.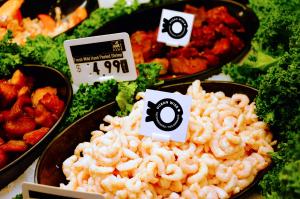 The Ocean Wise symbol next to a seafood item is our assurance of an ocean-friendly seafood choice.
New assessment tool removes barriers to Ocean Wise's sustainable seafood program, making it faster and more cost effective, while maintaining scientific rigour
RAPSTA offers a broader suit of recommendations to Ocean Wise's partners and seafood consumers while still maintain the scientific rigour they have come to expect."
— Lasse Gustavsson, CEO and President of Ocean Wise
VANCOUVER, BRITISH COLUMBIA, CANADA, February 14, 2023 /EINPresswire.com/ — Link to report
Overfishing is one of the greatest threats our ocean faces and one of the most direct ways humans impact the ocean. With an estimated 3 billion people globally relying on seafood as a significant source of protein it is critical that science and communication come together to help consumers make responsible choices. Since 2005 Ocean Wise has helped consumers and businesses – including restaurants, markets, and suppliers – navigate these choices with its globally recognized sustainable seafood recommendation program.
Unfortunately, Canadians have only been getting a portion of the information needed to make informed decisions about their domestic seafood consumption. Historically, due to data and capacity limitations, a significant number of Canadian fisheries have not been able to be assessed by Ocean Wise or similar sustainable seafood programs.
Recognizing the need to support sustainable practices of domestic Canadian seafood, Ocean Wise has developed a new Rapid Assessment Standard (RAPSTA) which creates a more comprehensive set of recommendations. This new standard provides a quicker, more cost-effective, and still scientifically rigorous assessment that will allow for more fisheries to be rated on a more frequent basis. Additionally, RAPSTA will allow Ocean Wise to track the progress of fisheries over time, allowing for targeted efforts to rebuild fish stocks.
RAPSTA's new methodology, developed by Dr. Laurenne Schiller, a Liber Ero postdoctoral researcher at Carleton University, in collaboration with Ocean Wise Seafood's Science Lead Samantha Renshaw pairs rigorous data from the Monterey Bay Aquarium Seafood Watch Program and Oceana Canada's 2022 Fishery Audit to rapidly identify the sustainability of fisheries that were previously unassessed. RAPSTA is a tool that will work in conjunction with the existing Ocean Wise recommendation system to provide a larger suite of recommendations. If they meet the Ocean Wise standard, new RAPSTA rated items will carry the Ocean Wise Recommended symbol and be subject to change yearly, as opposed to a more typical five-year timeline with Ocean Wise's standard assessments.
Another exciting component of RAPSTA is the assessment possibility the methodology opens for small-scale fisheries –fishers who typically operate without boats, or typically on boats less than 15 meters in length, with relatively low annual catch volumes – previously unassessed due to data and capacity limitations. Small-scale (i.e., small volume) fisheries are often left out of sustainability programs, but have the capacity to supply high quality, domestic, sustainable products, while often being local family-run or Indigenous businesses that provide food security and economic/cultural value.
New Ocean Wise Recommended Seafood Options
Of 135 new ratings under RAPSTA, 17 are Ocean Wise Recommended, while 118 are not recommended. Most not recommended species were driven by ineffective scores for management of target species (especially in the case of COSEWIC-listed species and a lack of associated robust recovery plan) or low bycatch scores (particularly in the Atlantic Ocean due to concerns over fixed gear interactions with endangered whales). Per the 2022 Oceana Fishery Audit, 47% of stocks hold an Uncertain population status in 2022 meaning an up-to-date stock assessment for a given fishery is unavailable. This lack of data limits our ability to assess the health and sustainability of the fishery.
These results indicate that it is more important than ever for consumers to have access to information to make sustainable choices about where their seafood comes from. Ocean Wise is committed to engaging with producers from coast to coast to develop best practices that help restore our ocean ecosystems.
New Ocean Wise Recommended options include:
• Clam, Pacific Geoduck, harvested via diving

• Gooseneck barnacles, harvested via hand implements, Clayoquot Sound

• Atlantic Halibut, harvested via handlines and pole-and-lines (hand operated), Atlantic Ocean

• Arctic Cod, harvested via gillnets, handlines, pole-and-lines, Arctic
Ocean Wise only recommends seafood options that:
• Ensure healthy and resilient stocks and populations

• Have effective and adaptive management plans in place

• Limit negative impacts on habitats and other species
Quotes

"RAPSTA offers a broader suit of recommendations to Ocean Wise's partners and seafood consumers while still maintain the scientific rigour they have come to expect. This means the next time Canadians head to the counter to purchase some locally caught seafood, they'll have more information about its sustainability available to them. It also means we will be better equipped to help Canadian fisheries recover." – Lasse Gustavsson, CEO and President of Ocean Wise
"The objective of RAPSTA is to give Canadians a more complete understanding of domestic seafood sustainability. We are a fishing nation, and supporting sustainable fisheries means not only protecting and restoring ecosystems but also working to support producers on the water to ensure we have healthy and delicious food on our plates. "- Samantha Renshaw, Science Lead, Ocean Wise Seafood and Fisheries, Co-Author, RAPSTA
"RAPSTA would have been impossible without the long-term work of three unique organizations. Ocean Wise, Oceana, and the Monterey Bay Aquarium Seafood Watch Program all provide invaluable information on fisheries and in developing RAPSTA, we were able to combine their key outputs. I hope the results of RAPSTA will incentivize improved stock assessments for data-poor fisheries, as they are currently at a huge disadvantage in the market." – Dr. Laurenne Schiller, Lead Author, RAPSTA

Ocean Wise – Nic Schulz
Ocean Wise
+1 647 883 2719
email us here
Visit us on social media:
Facebook
Twitter
LinkedIn
Instagram
YouTube


Article originally published on www.einpresswire.com as New Rapid Assessment Tool Expands Ocean Wise Seafood Recommendation Program for Previously Unassessed Canadian Fisheries
Ag/Farm/Forestry - Social Gov originally published at Ag/Farm/Forestry - Social Gov